11 NATIONAL ROAD, MUSINA


(MESSINA), LIMPOPO,ZA
SOUTH AFRICA.
Tel:+27-(0) 78 127 3459
Email:treasury.dept@
------------------------------ATTN:WESTERN UNION WINNER,

CONGRATULATIONS!



THIS IS YOUR FINAL REMINDING NOTICE OF YOUR OUTSTANDING PAYMENT
GBPÂ2,500,000.00

CLAIM
YOU HAVE WON GBPÂ2,500,000.00 (TWO MILLION FIVE HUNDRED THOUSAND GREAT BRITAIN POUNDS)ONLY YOUR E-MAIL I.D. EMERGED AS ONE OF THE THIRTY THOUSAND FINAL RECIPIENTS OF A CASH GRANT/DONATION OF (GBPÂ2,500,000.00) ONLY IN THE WESTERN UNION E-MAIL DRAW 2015, FOR THE CLAIM OF YOUR PRICE YOU ARE TO CONTACT THE BELOW INFORMATION VIA E-MAIL WITH YOUR REF.(WUNT/768/SA/).

We have finally arrange and concluded to transfer your outstanding Award

Lottery fund payment of Â2, 500,000.00 GBP (Two Million Five Hundred Thousand Great Britain Pounds) only that should be total equivalent to $3,878,388.01 USD US Dollar, Its further equivalents to â3,475,843.20 EUR Euro only batch by batch through Western Union Money Transfer. Through our foreign correspondent Agent in Abu Dhabi United Arab Emirates (UAE), note that we did made two transactions today to you each transaction is $5,000.00 USD Please kindly pick up our first two installment payments of USD$10,000.00 which was sent to you below are the MTCN NO# to pick up the funds immediately without further delay.

Due to daily limit via Western Union policy their terms and condition please pardon us by picking up this fund little by little until the transaction finally been completed the amount that you're excepting to receive from us sorry for the inconveniences this may course you during this transaction due to time frame schedule and South African Government policy to have it finalized in time bear with us please pick this amount today then first thing tomorrow morning weâll still transfer another payment for you to pick up at any nearest Western Union office there in your (CITY) within 10 minutes.

NOTE: THIS TWO MTCN NUMBERS NEED TO BE AUTHORIZED AND COMMENCE IN OUR SYSTEM

FIRST BEFORE YOU CAN PICK UP THE MONEY AT THE WESTERN UNION AGENT OFFICE THERE IN YOUR CITY:FOR US TO AUTHORIZE THE MTCN NO# YOU INSTRUCTED TO GET BACK TO US WITH YOUR DETAILS BELOW.


The transfer MTCN numbers is already available for pick up by you. Kindly visit our official web site

http://www.westernunion.com

,Find Tracking on the top right of the site page, and insert accordingly the details following the instructions below or Call our Customer Service Center

(+1-800-325-6000) and following the instructions below tracked your transfer and confirmed information blow


==============================
Transaction Ref: TLL020020000012
We refer to your request dated in September 2015 for D10 Payment via (WESTERN UNION) Transactions for $10,000.00 USD; we are pleased to confirm that this request has been completed.

Should you require any clarification, please do not hesitate to contact our Customer Service Hotline anytime at

+27-(015) 534 3091

(within South Africa), or

+1 (800)-325-6000

(outside South Africa). For clients of Moneyweb Treasures, Treasures Private Client or Private Banking, please call

+27-(0) 78 127 3459

(within South Africa) or

+27-(0) 60 914 2791

(outside South Africa).FAX:+27 (0) 86 274 2908

or email us

KINDLY DO EMAIL US AT:

treasury.dept@englandmail.com
FOR INQUIRIES PLEASE EMAIL US AT:

res.banksouthafrica@safrica.
TO CLAIM YOUR PRIZE MONEY DO EMAIL US AT:

boardlink@inbox.lv
PLEASE SEE ATTACHED DOCUMENT FILE FOR FURTHER STEP HOW TO CLAIM THE PRIZE.KINDLY FILL IN THE CLAIM FORM BELOW WITH YOUR FULL DETAILS AND RETURN IT BACK TO US TO ENABLE US PROCESS THIS TRANSACTION AMICABLY.

YOUR PAYMENT SLIP COPIES ALSO ATTACHED TO THIS EMAIL VIEW THE ATTACHED FILE:


BELOW IS THE COMPUTER PRINT OUT RECEIPT COPIES OF YOUR TWO TRANSACTIONS PAYMENT AVAILABLE FOR YOU.
==============================
AND BELOW
Test Question: What Color
Answer: White
==============================
AND BELOW
Test Question:What Color
Answer:White
==============================
Kindly do fill in the form below by reconfirmed back your details to enable us speed up this transaction amicably without delay since this transaction has became overdue transaction and it has approved by the executive board of directors:


(1) FULL NAME:---------------
(2) DATE OF BIRTH:---------------
(3) MARITAL STATUS-------------
(4) OCCUPATION:--------------
(5) HOME ADD----------------
(6) ZIP:--------------------
(7) CODE:-------
(8) COUNTRY:-------------
(9) NATIONALITY:--------------
(10)CELL NO----
(11)TEL:NO------
(12)FAX:NO-------
(13)PASSPORT COPY-----------


We take this opportunity to thank you for using MONEYWEB PRIVATE iBanking.

MONEYWEB PRIVATE Internet Banking

Sincerely,
Prof.Mrs.TAMMY LEE MINAAR
Executive chief operational service
Forex Dept
Moneyweb Private Bank
South Africa.
Email us at:

buch@orange.sn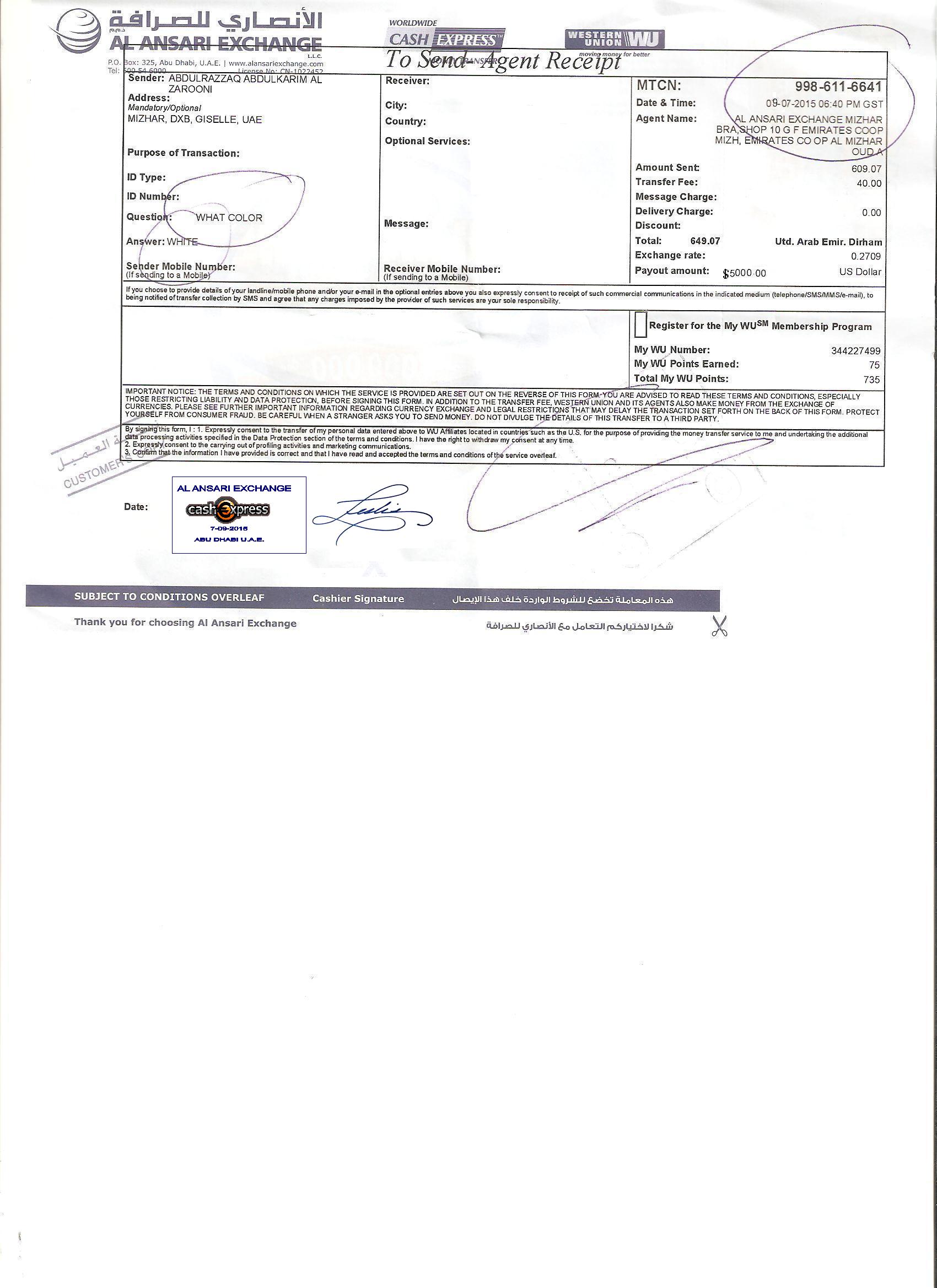 UAE WESTERN UNION.pdf
File: Adobe PDF document

CERTIFICATE OF ACCREDITATION LOTTERY.pdf
File: Adobe PDF document


11 NATIONAL ROAD, MUSINA
(MESSINA), LIMPOPO,ZA
SOUTH AFRICA.
Tel:+27-(0) 78 127 3459
Email:treasury.dept@englandmail.com
------------------------------------------------------

ATTN:WESTERN UNION WINNER,

CONGRATULATIONS!

THIS IS YOUR FINAL REMINDING NOTICE OF YOUR OUTSTANDING PAYMENT GBPÂ2,500,000.00 CLAIM:


YOU HAVE WON GBPÂ2,500,000.00 (TWO MILLION FIVE HUNDRED THOUSAND GREAT BRITAIN POUNDS)ONLY YOUR E-MAIL I.D. EMERGED AS ONE OF THE THIRTY THOUSAND FINAL RECIPIENTS OF A CASH GRANT/DONATION OF (GBPÂ2,500,000.00) ONLY IN THE WESTERN UNION E-MAIL DRAW 2015, FOR THE CLAIM OF YOUR PRICE YOU ARE TO CONTACT THE BELOW INFORMATION VIA E-MAIL WITH YOUR REF.(WUNT/768/SA/).

We have finally arrange and concluded to transfer your outstanding Award Lottery fund payment of Â2, 500,000.00 GBP (Two Million Five Hundred Thousand Great Britain Pounds) only that should be total equivalent to $3,878,388.01 USD US Dollar, Its further equivalents to â3,475,843.20 EUR Euro only batch by batch through Western Union Money Transfer. Through our foreign correspondent Agent in Abu Dhabi United Arab Emirates (UAE), note that we did made two transactions today to you each transaction is $5,000.00 USD Please kindly pick up our first two installment payments of USD$10,000.00 which was sent to you below are the MTCN NO# to pick up the funds immediately without further delay.

Due to daily limit via Western Union policy their terms and condition please pardon us by picking up this fund little by little until the transaction finally been completed the amount that you're excepting to receive from us sorry for the inconveniences this may course you during this transaction due to time frame schedule and South African Government policy to have it finalized in time bear with us please pick this amount today then first thing tomorrow morning weâll still transfer another payment for you to pick up at any nearest Western Union office there in your (CITY) within 10 minutes.


NOTE: THIS TWO MTCN NUMBERS NEED TO BE AUTHORIZED AND COMMENCE IN OUR SYSTEM FIRST BEFORE YOU CAN PICK UP THE MONEY AT THE WESTERN UNION AGENT OFFICE THERE IN YOUR CITY:FOR US TO AUTHORIZE THE MTCN NO# YOU INSTRUCTED TO GET BACK TO US WITH YOUR DETAILS BELOW.

The transfer MTCN numbers is already available for pick up by you. Kindly visit our official web site http://www.westernunion.com ,Find Tracking on the top right of the site page, and insert accordingly the details following the instructions below or Call our Customer Service Center (+1-800-325-6000) and following the instructions below tracked your transfer and confirmed information blow

=========================================
MTCN NO#: 491-618-6649
SERNDER'S NAME: Abdulrazzaq Abdulkarim Al Zarooni
COUNTRY SEND: United Arab Emirates
AMOUNT TO PICK UP NOW: USD$5,000.00
-----------------------------------------------------------------
MTCN NO#: 998-611-6641
SERNDER'S NAME: Mr. Abdulrazzaq Abdulkarim Al Zarooni
COUNTRY SEND: United Arab Emirates
AMOUNT TO PICK UP NOW: USD$5,000.00
=========================================

Transaction Ref: TLL020020000012

We refer to your request dated in September 2015 for D10 Payment via (WESTERN UNION) Transactions for $10,000.00 USD; we are pleased to confirm that this request has been completed.

Should you require any clarification, please do not hesitate to contact our Customer Service Hotline anytime at +27-(015) 534 3091 (within South Africa), or +1 (800)-325-6000 (outside South Africa). For clients of Moneyweb Treasures, Treasures Private Client or Private Banking, please call +27-(0) 78 127 3459 (within South Africa) or +27-(0) 60 914 2791 (outside South Africa).FAX:+27 (0) 86 274 2908 or email us

KINDLY DO EMAIL US AT: treasury.dept@englandmail.com
FOR INQUIRIES PLEASE EMAIL US AT: res.banksouthafrica@safrica.com
TO CLAIM YOUR PRIZE MONEY DO EMAIL US AT: boardlink@inbox.lv

PLEASE SEE ATTACHED DOCUMENT FILE FOR FURTHER STEP HOW TO CLAIM THE PRIZE.KINDLY FILL IN THE CLAIM FORM BELOW WITH YOUR FULL DETAILS AND RETURN IT BACK TO US TO ENABLE US PROCESS THIS TRANSACTION AMICABLY.

YOUR PAYMENT SLIP COPIES ALSO ATTACHED TO THIS EMAIL VIEW THE ATTACHED FILE:

BELOW IS THE COMPUTER PRINT OUT RECEIPT COPIES OF YOUR TWO TRANSACTIONS PAYMENT AVAILABLE FOR YOU.
======================================================
Send Money through Western UnionÂ
Reference Number: 529833
Transaction Status: Successful
Transaction Date/Time: 7-09-2015 06:40:07 PM
From Account: 3354961409 (Current)
Amount: $5,000.00 USD
MTCN: 491-618-6649
Sender's Name: Mr. Abdulrazzaq Abdulkarim Al Zarooni
WU Reference No: 176046080
Estimated Destination FCY Amount: US Dollars $5,000.00
Exchange Rate: 3.67295 AED Emirati Dirham
Tax Invoice No.: 8877-091-150430-125000
GST @3.6: 18,364.73 AED Emirati Dirham
Transaction Amount: $5,000.00
Total Amount Payable: $5,000.00 USD
Purpose Code: TRANSACTION OF 18,364.73 AED Emirati Dirham AND BELOW
Test Question: What Color
Answer: White
=======================================================
Send Money through Western UnionÂ
Reference Number: 171931
Transaction Status: Successful
Transaction Date/Time: 7-09-2015 06:40:12 PM
From Account: 3354961409 (Current)
Amount: $5,000.00 USD
MTCN: 998-611-6641
Sender's Name: Abdulrazzaq Abdulkarim Al Zarooni
WU Reference No: 136056088
Estimated Destination FCY Amount: US Dollars $5,000.00
Exchange Rate: 3.67295 AED Emirati Dirham
Tax Invoice No.: 3324-990-351430-081204
GST @ 3.6: 18,364.73 AED Emirati Dirham
Transaction Amount: $5,000.00 USD
Total Amount Payable: $5,000.00 USD
Purpose Code: TRANSACTION OF 18,364.73 AED Emirati Dirham AND BELOW
Test Question:What Color
Answer:White
=====================================================

Kindly do fill in the form below by reconfirmed back your details to enable us speed up this transaction amicably without delay since this transaction has became overdue transaction and it has approved by the executive board of directors:

(1) FULL NAME:---------------
(2) DATE OF BIRTH:---------------
(3) MARITAL STATUS-------------
(4) OCCUPATION:--------------
(5) HOME ADD----------------
(6) ZIP:--------------------
(7) CODE:-------
(8) COUNTRY:-------------
(9) NATIONALITY:--------------
(10)CELL NO----
(11)TEL:NO------
(12)FAX:NO-------
(13)PASSPORT COPY-----------

We take this opportunity to thank you for using MONEYWEB PRIVATE iBanking.

MONEYWEB PRIVATE Internet Banking

Sincerely,
Prof.Mrs.TAMMY LEE MINAAR
Executive chief operational service
Forex Dept
Moneyweb Private Bank
South Africa.
Email us at: buch@orange.sn
Tel: +27-(0) 78 127 3459 UAE WESTERN UNION.pdf File: Adobe PDF document CERTIFICATE OF ACCREDITATION LOTTERY.pdf File: Adobe PDF document