The Six Basic Scam Classifications
Scams come in many forms but there are a few, well-tested types that are used again and again. The words and the technology change but the scams remain the same, some times for hundreds of years (See the Spanish Prisoner Scam).
The Six Basic Scams are described here. We use this shortened list to classify the Email Scam Archive, and a longer list to classify the Scam Tip Off Reports
More: Details | Email Scams | Scam Tip Off Reports
There is almost always crossover between these basic types, for example, most use counterfeit checks/cheques at some stage and one scam may morph into another or even present several types at one time. All have one thing in common though; to get you to part with your money or your property.
Scamdex aims to inform, alert and educate the Internet-using public to help make sure that Crime does not Pay!
Scam Tip Off Statistics
Scam Tip Off Report Stats.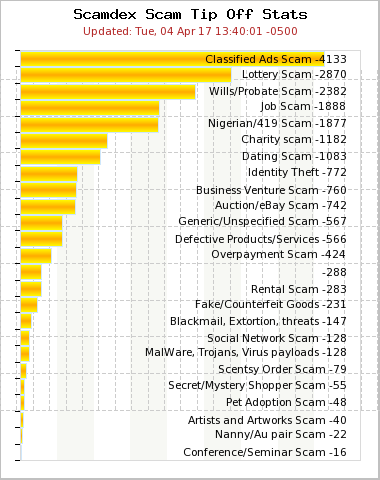 Check out the
Fresh Scams
page for the most up-to-date Scam Emails!
Scam Email Archive Stats.
---
What Is This?
This Email with the Subject
""
was received in one of Scamdex's honeypot email accounts on and has been classified as a Scam Email. The sender shows as , although that address was probably spoofed. We recommend that you do not attempt to contact any persons or organizations referenced in this email, as you may expose yourself to scammers and, at the very least, you will be added to their email address lists for spam purposes.
Since you're here …
we have a small favour to ask. More people are visting Scamdex and Scamalot than ever but advertising revenues are falling fast and we have no 'product' to sell. And unlike many informational websites, we haven't put up a paywall or membership barrier – we want to keep our site as open as we can. So you can see why we need to ask for your help. Scamdex/Scamalot websites takes a lot of time, money and hard work to keep running. We do this because we hate to see our fellow humans getting scammed out of their hard-earned money by low-lives.
Consider switching off your AdBlocker (if you use one) or contributing directly by one of the links below. Thank you for reading!