Large parts of West Africa have communications blackouts after damage was found on the major undersea fiberoptic cable, known as SAT-3, which supplies countries such as Benin, Togo, Niger and Nigeria. The cable runs from Portugal and Spain to South Africa, via West Africa and has cut 70% of Nigeria's bandwidth, causing severe problems for its banking sector, government and mobile phone networks.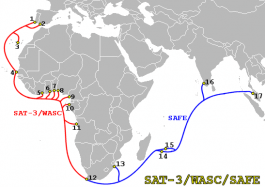 The effects are expected to last as long as two weeks and I will be interested to see if this makes any difference to the numbers of 419 (aka AFF or simply 'Nigerian') scam solicitations, considering that the major source of the scourge is the West coastal coutries of Africa due to the endemic corruption and poor policiing in the region.
I look forward to the first email ….
"Due to the recent undersea cable fault, banking institutions had to resort to using cash-only transactions and I have found a large chest containing a huge amount of cash in US Dollars – I need someone in the west to help me to move it to the USA ….."
A backup, the West Africa Cable System linking southern and western African countries with Europe should be in service by 2011. This link will massively improve Internet speeds for South Africa, Angola, the Canary Islands, Cameroon, Nigeria, Ghana, Cote d'Ivoire, Cape Verde, Portugal and the United Kingdom. It will also bring submarine links online for the first time to the countries of Namibia, the Congo and Togo.
We shall see….