Scamdex believes that every provider of interactive services should have, front and center, a simple way to report abusers of it's service. So, a provider of free email needs to



have an easy-to-find way to report people using it's email for scamming or spamming. This reporting should be linked directly to a mechanism which flags the account and, if possible, immediately suspends the account until the claim has been verified.
Remember, in most cases we're talking about 'free' services, with little or no verification of any of the registration data. In that environment, the strictest possible enforcement should be used.
Providers of these free services (gmail, hotmail, AOL, yahoo etc etc) almost always fail these seemingly obvious criteria and actually contribute to the deluge of spam and scams by their inaction.
In the past two days, I have used two services and got two different scam solicitations.
Skype Chat

The first was when I came in to work to find the following chat message on my Skype application. (Skype is primarily an internet telephony service, but also provides a chat service too).
[7:53:17 AM] richadams says: Walker Art Gallery
William Brown Street,
Liverpool, L3 8EL, England

Dear Sir/Madam,

Am Rich Adams. CEO/ Head Of Human Resources of WALKER ART GALLERY and, which I own. (United Kingdom). We have recently added designing and creating artwork on the computer, We have been selling my art for the past 8 years and have had my work featured on trading cards, prints and in magazines, which you probably must have seen or if not, check your local book stores. We have sold in galleries and to private collectors from all around the world. We are always facing serious difficulties when it comes to selling my art works to Americans/Canada, they are always offering to pay with money order or casheir's cheque and Traveler's cheques, which is difficult for me to cash here in the United Kingdom or very high tax in cash exchange. We are making it known that we need representative.

NB: PLEASE I WANT TO MAKE YOU UNDERSTAND THAT THIS TRANSACTION DOES NOT REQUIRE ANY FEES FROM YOU INSTEAD, YOU ARE ENTITLED TO 10% ON EVERY PAYMENT/TRANSACTION, AND YOUR 10% SHOULD BE DEDUCTED IMMEDIATELY BY YOU SOON AS THE PAYMENT HAS BEEN MADE. YOU SHOULD ALWAYS KEEP THE COMPANY INFORMED IF ANY OF OUR CUSTOMERS CONTACTS YOU IN RESPECT OF PAYMENT OR ANY OTHER ISSUES.YOU ARE EXPECTED TO ALWAYS REPLY E- MAILS YOU RECEIVED FROM THIS COMPANY.
THANKS.

We are looking for a representative in the United States Of America / Canada as a par-time worker and I will be willing to pay 10% for every transaction, which wouldn't affect your present state of work, someone who would receive payments from my customers in the states, ( responsible and reliable) because the cost of travelling and getting payments, is very expensive.
We are working on setting up a branch in the state, so for now, we need representative's in the United States Of America/Canada who will be handling this aspect for our company.

We are offering this to intrested people in specific location in the US / CANADA.

If You are interested, Reply via email : richadam22@yahoo.com
Kindly provide me with:
======================================
Your Full Names…………………………………………
Your Address (NOT P.O Box)………………………..
City, State, Zip……………………………………………
Occupation…………………………………………………
Phone Number(s)………………………………………..
Age……………………………………………………………
Sex……………………………………………………………
Email…………………………………………………………

Reply via email : richadam22@yahoo.com
Regards, Mr. Rich Adams
Now, 'Richadams', skype name 'richadam22', claims to be from 'nj'. I looked around on the many skype options for a 'report this person' button – the only thing I could find was a 'block this user'.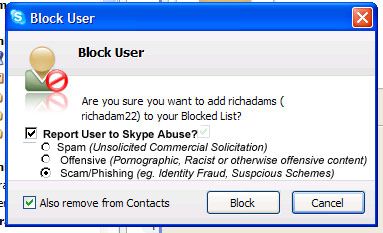 Ok, so I dont get any more calls from Richadams, but he's obviously just going to move on to the next person he finds. Why not ask me why I want to block this user, Skype? would it hurt to put a couple of check boxes (See my impression of what this should look like).
So Why don't they do this?
Cynical old Scamdex might suggest that if they allow people to report scam/abuse/spam, then they'd have to do something about it and, more importantly, might then have to take some responsibility for and, dare I say it, liability for the abuse of their services.
ANyone agree/disagree?