The Scamdex Scam Email Archive - Generic o
Attention: Owner/Manager
Here with the Better Business Bureau would like to notify you that we have been sent a complaint (ID 21800009) from one of your customers with respect to their dealership with you.
Please open the COMPLAINT REPORT below to view more information on this matter and inform us about your position as soon as possible.
We hope to hear from you very soon.
Sincerely,
Theresa Morris
Dispute Counselor
Better Business Bureau
---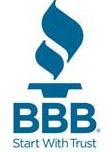 Council of Better Business Bureaus
4200 Wilson Blvd, Suite 800
Arlington, VA 22203-1838
Phone: 1 (703) 276.0100
Fax: 1 (703) 525.8277
---
Since you're here …
we have a small favour to ask. More people are visting Scamdex and Scamalot than ever but advertising revenues are falling fast and we have no 'product' to sell. And unlike many informational websites, we haven't put up a paywall or membership barrier – we want to keep our site as open as we can. So you can see why we need to ask for your help. Scamdex/Scamalot websites takes a lot of time, money and hard work to keep running. We do this because we hate to see our fellow humans getting scammed out of their hard-earned money by low-lives.
Consider switching off your AdBlocker (if you use one) or contributing directly by one of the links below. Thank you for reading!