Yesterday I received a call from a my wife at 1415 hours telling me to call a Ms Lola McDermott at the Bank of America in Owings Mills Maryland at 410-902-3480 about someone trying to deposit a forged check with my wife's name on it from my bank account with a forged signature on it.
I called Ms McDermott and she gave me the information above also. She said I should go to Bank of America and close out that account because someone had gotten my bank account information and had made a business type check that looked legitimate but was out of scale regarding the amount with what my usual check amounts had been and instead of having both our names, only had my wife's name as the account holder. She said that I should give the person at the bank her name and telephone number and if she was not there, to have them ask to speak to Ms Akhila because she was the teller who caught the discrepancy. She said that they had the check and the deposit slip but the man who was trying to deposit it ran out of the bank before they could stop him. She said she would have a copy of the check and of the deposit slip to the bank.
I went to my home branch of Bank of America in Jessup Maryland and spoke to Ms Germaine Nelson about the problem. She called the Owings Mill branch and had them fax a copy of the check and deposit slip to her. She proceeded to close out the account and to open me a new account and transferred all of my funds over to the new account.
The name the check was made out to a Karin or Karen Wills in the amount of $9,700.00 and the deposit slip for the same amount was in her name with what seems to be account # 446019942742 with her address listed as 2535 Glenallen Avenue, Silver Spring Maryland 20906.
I have not made a regular police report as yet as I believe that this is considered bank fraud and therefore is an FBI matter; and so do not have a police report that I can attach. I am attaching a copy of the phony check and deposit slip and a satellite picture of the address is below.
My work address and contact information is:
Leslie M. Sims – Project Manager
6201 Security Blvd – NCC Mail Stop G13
Baltimore, MD 21235
Telephone: 410-594-2048
I am usually in the office by 0530 hours and generally depart at approximately 1500 hours if you want or need to get in touch with me before I have an opportunity to call your office.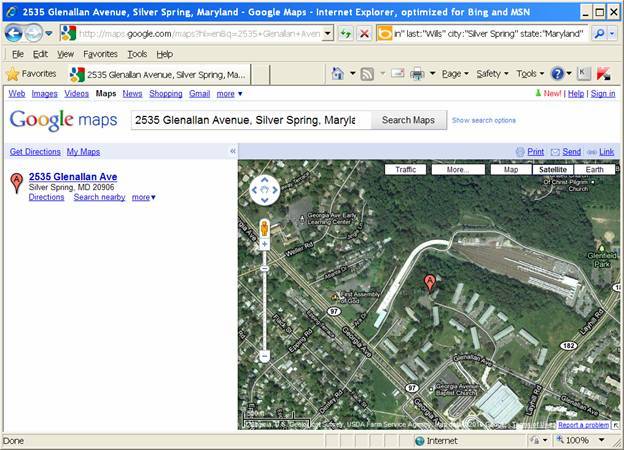 I will call your office tomorrow to try to get an appointment to speak with one of you and see what further actions will be required of me.
Sincerely,
Les Sims
Leslie M. Sims - Project Manager
Dynamic Concepts, Inc.
6201 Security Blvd - NCC G-13
Baltimore, MD 21235
T: 410-594-2048
F: 410-594-0213
No Job is so important
And no service is so urgent
That we cannot take time
To perform our work safely!
Bell System Safety Slogan
CONFIDENTIALITY NOTE
This e-mail contains confidential information and is intended solely for the use of the individual(s) named on this transmission. If you are not the intended recipient, you are notified that disclosing, copying, distributing or taking any action in reliance on the contents of this information is strictly prohibited.