The Scamdex Scam Email Archive - Generic o
For any enquiry, please contact
Mr. Michael Chan at (852) 8200 9070
for dateails, or e-mail to
ppe1@dm-pro.com.hk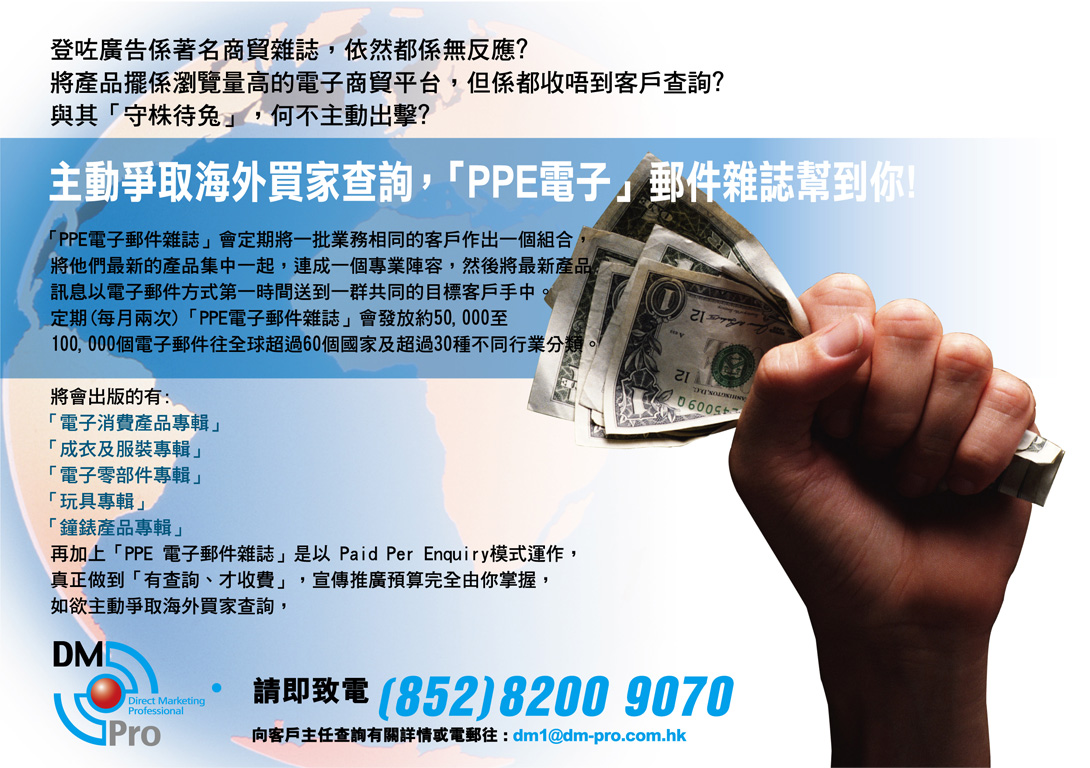 Address: Suite A, 13/F., Times Media Centre, 133 Wanchai Road, Wan Chai, Hong Kong. Fax: (852) 3152 3756
如閣下/貴公司不想收到我們的產品介紹,請電郵往: optout@dm-pro.com.hk ,我們會在 10 日內盡快處理,不便之處,敬請原諒!
You have received this promotional e-mail as a valued existing/would-be customer of DM Pro. We respect your privacy.
In case you would not wish to receive promotional e-mails from us in the future, just inform our Customer Services Department at Fax: (852) 2838 4166
or email: optout@dm-pro.com.hk to request for non-inclusion in our e-mail promotion database.
Please allow us 10 business days to effect the requested change and there is a slight chance that you may receive promotional messages from us during that period.
We apologize for any inconveniences it may cause to you.
---
Since you're here …
we have a small favour to ask. More people are visting Scamdex and Scamalot than ever but advertising revenues are falling fast and we have no 'product' to sell. And unlike many informational websites, we haven't put up a paywall or membership barrier – we want to keep our site as open as we can. So you can see why we need to ask for your help. Scamdex/Scamalot websites takes a lot of time, money and hard work to keep running. We do this because we hate to see our fellow humans getting scammed out of their hard-earned money by low-lives.
Consider switching off your AdBlocker (if you use one) or contributing directly by one of the links below. Thank you for reading!