All my troubles are over… I've won the Microsoft Lottery. But I wonder – Does Bill know?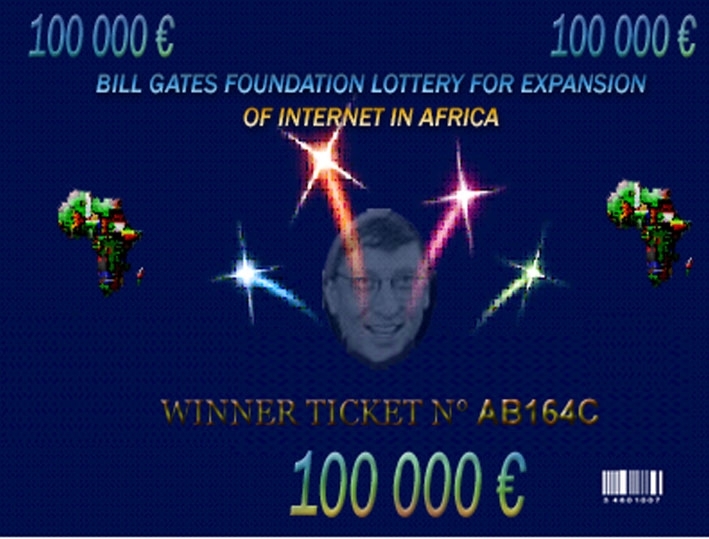 A Votre Amaible Attention ,

Nous Avons Le Plaisir De Vous Annoncer Que Vous Etes L'un Des Heureux Gagnants De La Bill Gates Foundation Lotery For Internet Expansion In The World Dont Le Siège Social Ce Trouve à LONDRES. Une Loterie Portant Sur Les Adresses Email Des Internautes. La Valeur Totale En Jeu Est De 50.000 000 Millions d'Euros Et Votre Adresse a été Tiré Au Sort Par Sélection Informatique Lors De Notre Premier Tirage Annuel Effectué La Semaine Dernière Au Siége Mondial Sis A DETROIT. Vous Faites Donc Partis Des Heureux Gagnants Et Votre Gain Est De 100.000 Euros.

Pour Entrer En Possession De Votre Lot, Veuillez Adressez Exclusivement Par email Au siège Social De La Bill Gates Foundation Lottery for Internet Expansion In the world UN un Courrier Comportant :

Votre Nom, Prénoms, Adresse Complète, Numéro De Téléphone, Fax, email Ainsi Qu'une Copie De Votre Carte Nationale D'identité Ou Passeport. Apres Quoi Il Vous Sera Explique Comment Entre En Possession De Votre Lot. Recevez Encore Toutes Nos Félicitations.

Directrice des operations: Mme ISABELLE CHEVALIER Sec Coordinatrice Zonale: De M. Rudolf P. Coordinateur Zonal: Markhams De M. James Nkomo

Membre du conseil : Caro malandji

Garantissez les droits d'auteur Le © 1994-2006 BILL GATES FOUNDATION LOTERY

Tous droits r̩serv̩s. Limites de service Рdirective 100860 8556 2548 9576 Mme ISABELLE CHEVALIER Directrice Des Op̩rations.